The popularity of television, books and movies testifies to our desire to escape the humdrum of everyday life. Certainly, many books and television shows are watched for their educational value, but what we really want is entertainment. We want to be transported, if only in our imaginations, from where we are to some other fantastic place. From reality to fantasy. Along the way we happily gobble up debaucherous immorality: lies, sex and violence, and why not? We aren't doing it, and it isn't been done to us. Living vicariously through fictional characters is safe. It is also both amusing and instructive vis-a-vis human nature.
After many months of wondering what happened after the explosion in the final episode of season 14 of ER, and then subsequently forgetting about it when we couldn't watch it because it wasn't on TV and Leading Edge video store which supplied us with season 1 -14 didn't have season 15, we watched the final episode of the Australian police drama, Blue Heelers. Not being able to follow the trials and tribulations of the coppers at Mount Thomas was a blow, and by the time we neared the end of season 14 we were in despair. How could we go on without our much loved friends in the Victorian police department? And then, season 15 of ER appeared on the shelf at Leading Edge. Hooray!
Last night we found out what happened after the explosion at the
end of season 14. *Spoiler alert. One of the main stars, a favourite character who had morphed from an annoying and narcissistic cowboy of a doctor, into the chief of the ER and everyone's best mate, appeared to have survived the explosion. He made it out of the ambulance and into hospital where it was eventually discovered that he was much more seriously injured than first presumed. Fatally injured in fact. First episode of a new season and they killed off one of the stars of the show. It was shocking, gripping, and emotionally draining, which is exactly what you want from television drama.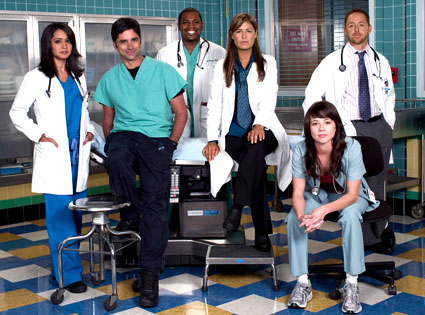 Dr.Greg Pratt died a horrible death. After the funeral his friends gathered at the local watering hole to eulogize him and eat deep fried mozarella sticks in honour of him. As we watched those deeply moving scenes, I felt a bit teary and I wanted to eat a deep fried mozarella stick. Then we watched another episode. Life carried on in the emergency room of County General, as it did in our home where after episode two, I brushed my teeth, went to bed and slept peacefully. Untouched. Unscathed. Safe, warm and well.
I cannot imagine a world without such entertainment. The escapism provided by the amusements of our culture is a reflection of who we are: empty, craven, and broken.The breadth of human experience, the highs and the lows, can be encapsulated in a forty minute episode, a two hour film, or a three hundred page novel. And it's all fake. Realistic? Sure, but completely counterfeit. All our hopes, our dreams, our fears, our grief, our suffering and our joy is there for us to enjoy, but h
ow much or how little of this experience is our own?